ZipGrow Helping to Transform Indoor Agriculture
December 13, 2018
Cornwall Ontario – A dedicated team of farming pioneers based in Cornwall are helping to bring local fresh food to the table in a growing number of communities.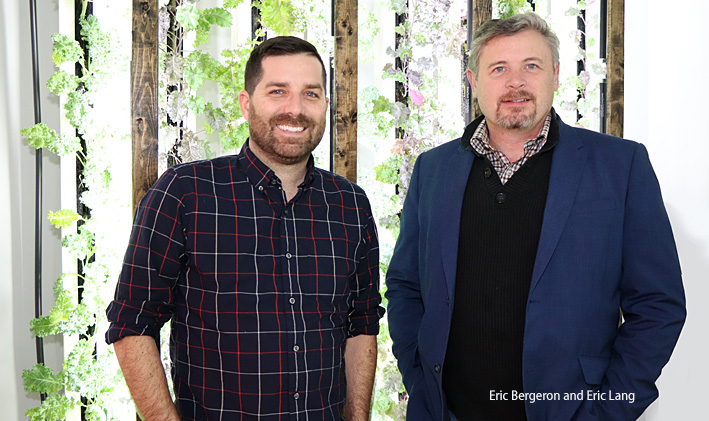 ZipGrow manufactures vertical growing systems in Cornwall and works with farmers in external markets to install the technology and build economically viable indoor farms.
Essentially plants are grown from seeds in rows that are oriented vertically as opposed to on a traditional horizontal plane. Light, water and nutrients are supplied via a system that maximizes efficiency and crop yield.
"Our towers are designed by farmers for use by farmers," says Eric Lang, President and Co-Founder of ZipGrow. "Going vertical allows you to grow crops in a relatively small physical area, which makes it ideal for indoor locations."
The system is scaleable as well, which means that restaurants can grow their own greens, students can learn about agriculture and entrepreneurs can build commercial farm operations are that are climate-proof.
The ZipGrow method of farming is versatile and can accommodate different crops. Indoor farmers have had success with leafy greens such as lettuce, kale and arugula while herbs like basil, mint, and rosemary are perfect matches for growing vertically. With a little extra planning and preparation, you can also successfully grow fruiting plants such as strawberries, cucumbers, and bell peppers.
ZipGrow is located on Fourth Street West in the middle of Cornwall. Demand for their product has led to continuing increases in production, requiring the company to expand its physical footprint. The company now employs 15 people.
"We are selling ZipGrow systems in North, Central and South America and demand continues to increase quarter after quarter," says Eric Lang. "Each sale paves the way for another as people become familiar and comfortable with the technology."
Mr. Lang is partners with Eric Bergeron who first brought the concept of indoor farming to Cornwall with SmartGreens in 2014.
"Indoor farming offers solutions to problems that conventional agriculture struggles with – namely environmental impact, timely transportation of perishable goods to distant markets, climate change and more," says Mr. Bergeron, Co-Founder and Chief Marketing Officer for ZipGrow. "We believe that with right knowledge and the right technology, individuals and communities can help bring farmers and consumers much closer together for the benefit of all."
About ZipGrow
ZipGrow designs and builds vertical farming technology for installations around the world. Its team of proven leaders in the field educate, equip, and empower local farmers to grow better food for their communities and operate successful vertical indoor farms.
This story is featured in the 2018 Year in Review Report.
Categorised in: Business, Community, Environment, General, News