$500 million Canada Community Revitalization Fund to Drive Recovery
June 24, 2021
Cornwall Ontario – Canadian cities and towns flourish when they have community infrastructure to promote social interaction and physical activity, and provide access to recreational programs and facilities. Shared public spaces such as main streets, community centres, farmers' markets, libraries, outdoor spaces and other public places draw in residents and visitors alike, supporting local businesses and jobs. These places are integral to our overall well-being as individuals, families and communities.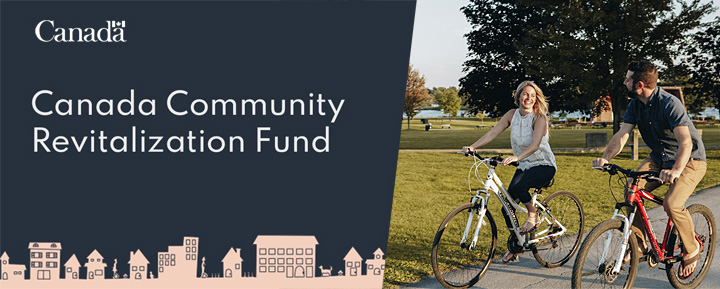 The Canada Community Revitalization Fund (CCRF) will provide $500 million over two years to Canada's regional development agencies (RDAs) in funding to support not-for-profit organizations, municipalities and other community groups and Indigenous communities to:
build new community infrastructure and revitalize existing assets;
bring people back to public spaces safely as health measures ease; and,
create jobs and stimulate local economies.
"Today's announcement demonstrates the Government of Canada's commitment to support economic development in communities of every size, in every region," says Mélanie Joly, Minister of Economic Development and Official Languages. "We have helped put small- and medium-sized businesses on the road to recovery. Now it's time to invest in the shared public spaces that will safely bring people together and help communities grow and thrive well into the future."
Intake Now Open
FedDev Ontario is now accepting applications for funding through the CCRF for organizations in southern Ontario.
Applicants that have projects ready to proceed are strongly encouraged to submit their applications by July 23, 2021. For full eligibility criteria and other information, please visit FedDev Ontario's CCRF web page.
FedDev Ontario staff will also be hosting four technical briefings on the CCRF through Zoom over the next few weeks. Those who are interested may register via one of the following links:
Since the start of COVID-19, Canada's RDAs have been on the ground providing relief and recovery funding to businesses and business support organizations to help them weather the effects of the pandemic through the $2 billion Regional Relief and Recovery Fund, preserving more than 143,700 jobs.
Quick Facts
CCRF funding will support two major streams of activity:

adapt community spaces and assets so that they may be used safely in accordance with local public-health guidelines,
build or improve community spaces to encourage Canadians to re-engage in and explore their communities and regions.

Eligible recipients will include not-for-profit organizations; rural, municipal or regional governments; Indigenous groups and communities; and public sector bodies that provide municipal-type infrastructure.
Priority may be given to projects that encourage the participation of underrepresented groups and take into consideration the unique challenges of rural and remote communities.
A one-time special scheduled intake will focus on eligible projects that are ready to proceed. Initial screening will begin during the four-week period. Assessment of applications will begin on July 23, 2021, 23:59 PDT. Applicants are strongly encouraged to submit their applications by this date. Should there be remaining funding after the scheduled intake period, applications will continue to be accepted and funded on a continuous intake basis over the next two years or until such a time as the allocated funding is fully distributed.
Business Reopening Toolkit
Cornwall Economic Development has put together a toolkit to help businesses reopen. The toolkit includes guidelines and a maximum occupancy calculator along with signs and posters that can be downloaded and printed:

We summarize the latest news about the impacts of COVID-19 on Cornwall businesses on a daily basis. Click on the following link to view:
Categorised in: Arts and Entertainment, Business, Community, General, News, Sports