Apartments Still Available at New Cornwall Development
June 27, 2023
Cornwall Ontario – Finishing touches are being completed on the new apartment building at Ninth and McConnell and applications are still being received for the remaining 15 market rent units still available.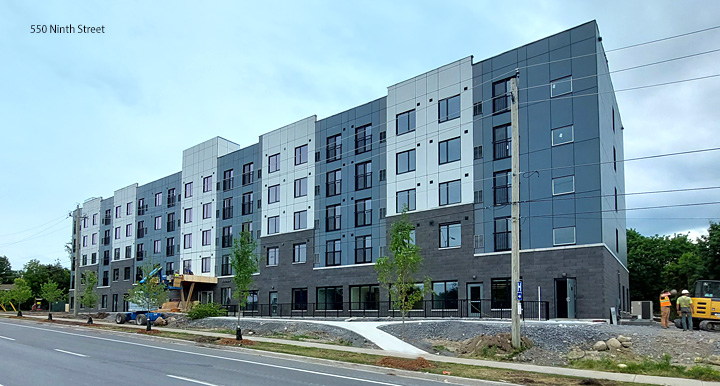 The new $18.8-million Cornwall Affordable Housing Complex is located at 550 Ninth Street and features 77 residential units.
"The complex features a mix of units at attainable market, affordable and/or rent-geared-to-income rents," said Lisa Smith, Manager of Housing Services for the City of Cornwall. "Over 50 of the units have been rented, with occupancy expected in the first week of July."
Market Rent Units
The monthly rent for market rent units is set at $1350.00 plus utility costs and plus $25.00 for parking if required.  Tenants also have an additional monthly tenant insurance expense.
Apartment layouts (including an on-line application form available July 4th) can be found here:
The site was identified as a priority location in a recent Housing Revitalization Plan, which recommends broadening the definition of affordable housing with the objective of creating healthy, sustainable communities. The bottom floor of the building will house the offices of the Housing Services Department for the City of Cornwall and SDG Counties.
About Housing Services Division
The Housing Services Division of the City of Cornwall delivers programs and services to residents in Cornwall, Stormont, Dundas, and Glengarry. Programs include rent-geared-to-income, homelessness prevention, domiciliary program, and Ontario Renovates.
Housing Services offers quality, safe and affordable housing for seniors, families and adults.  The Corporation owns 720 senior apartments, 21 Affordable Housing units geared to seniors, 32 Affordable Housing units geared to non-seniors and 458 family units in Cornwall, Stormont, Dundas and Glengarry. For more information, please visit the City's website:
Related Articles