Author Erin Lee Releases her Third Book
December 20, 2022
Cornwall Ontario – Local author Erin Lee has launched her third book, Benjamin and the Backyard Beast, through her publishing company Sunset Press.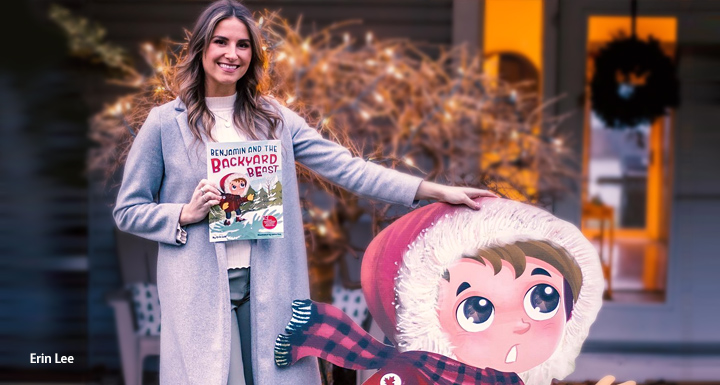 Benjamin and the Backyard Beast is an educational children's book about Erin's Canadian roots and culture. This story takes place locally, along the St. Lawrence River valley and is based on her own childhood adventures with her father.
"I aim to raise awareness about important lessons based on social skills, life skills, and academics," says Ms. Lee. "I hope that my stories will spark a love of reading and inspire younger generations to be the best humans they can be."
The book consists of various educational components including a story and fun activity pack. While creating the story, Erin worked with a team from Akwesasne to write an entire Haudenosaunee (Mohawk) component to compliment the story and received support from the Native North American Travelling College.
Erin enjoys leading workshops and designing activities for educators to use in their own classrooms. Benjamin and the Backyard Beast celebrates what it means to live along the St. Lawrence River. Teachers and young readers can experience our local environment through the many Canadian animals, land and water.
Recently, Erin launched a line of unique products based on her new book. Everything is themed follow the theme of the book and sourced from local artisans: a hat created by Peak-a-boo, a scrunchie by Bend and Snap, a stuffed moose, and a key chain. The products can be bought on her website or from Kid's Korner in Cornwall.
Benjamin and the Backyard Beast is the third book authored by Ms. Lee, following Maggie the Magnificent and Out of Season. Her books are sold online on her website and on Amazon. Local readers can also grab Erin's books at the Long Sault and Cornwall library (or in local stores, such as Kids Korner).
Erin Lee is featured in the 2022 Year in Review report by Cornwall Economic Development.
Categorised in: Arts and Entertainment, Business, Community, General, News