Box Office Services Expanded to Benson Centre
November 30, 2022
Cornwall Ontario – Cornwall residents and visitors now have another easy way to purchase tickets for upcoming shows and games.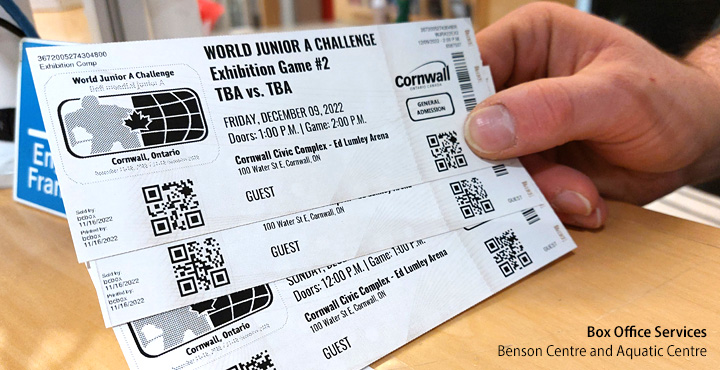 Box office services have been expanded to now include the Benson Centre — that's in addition to the box office located at the Aquatic Centre. Residents can also purchase tickets online by visiting www.ticketpro.ca
"We are happy to expand our Box Office services," says Lorne Taillon, Recreation and Programming Supervisor. "Residents can now drop by the Benson Centre or the Aquatic Centre to get tickets to events at City facilities and Aultsville Theatre. Both locations are open extended hours, offer free parking and offer convenient and easy ground floor access."
The new change comes right on time for a number of exiting events and holiday shows in the City to close out 2022:
World Junior A Challenge
World Junior A Challenge. From December 11 to December 18, come watch Canada East, Canada West, USA, Sweden and Latvia face off for a gold medal at the Cornwall Civic Complex. Tickets now on sale. Click for more info.
Year in Review
Cornwall Economic Development's annual Year in Review Presentation is happening on December 15. Make sure to purchase your tickets today — spaces are limited. Click for more info.
Aultsville Theatre
Always wanted to go watch a Christmas show at the Aultsville Theatre? Now is your chance! There are different holiday shows this December! These include:
December 2 – Rudolph the Rednosed Reindeer

A Christmas favourite presented by the Seaway Valley Theatre Company.

December 5 – The Barra MacNeils – An East Coast Christmas

An East Coast Christmas is a musical potpourri of traditional songs from The Barra MacNeils.

December 9 – REJOICE, a Christmas Concert

The Centennial Choir of Cornwall invites you to their Christmas concert.

December 16 – O Christmas Tea

Fans of Monty Python, Mr. Bean and Dr. Seuss… Grab your teacups!
More Events
There are lots of fun events going on in Cornwall at any given time. Find out about these and other events by visiting the Cornwall Tourism Events Calendar!
Categorised in: Arts and Entertainment, Business, Community, General, News, Sports