Single Game Tickets now on sale for World Junior A Challenge
November 30, 2022
Cornwall Ontario – Single game tickets are now on sale for the World Junior A Challenge, an international hockey showcase that's being hosted at the Cornwall Civic Complex from December 11th to 18th.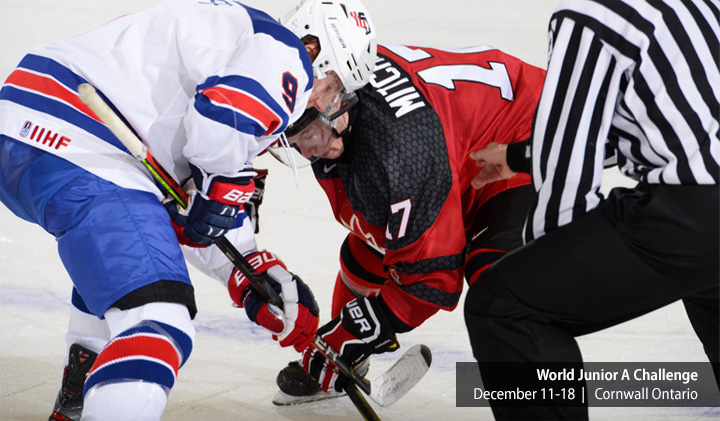 The eight-day tournament will feature some of the world's top Junior A level hockey players competing for gold in their country's colours. Two Canadian teams – Canada East and Canada West – will face off against USA, Sweden and Latvia in this heavily-scouted tournament.
"It's going to be a great week of hockey and fans are in for a real treat," said Lorne Taillon, chair of the local organizing committee. "It's a great opportunity to see some storied hockey rivalries right here at home."
Tickets
Tickets are $10 for the exhibition games, $16 for the preliminary round, $19 for the semi-finals and $20 for the bronze and gold medal games. Fans can save $2 per ticket for group sales of 10 or more to any game.
Tickets can be purchased in person seven days a week at the Aquatic Centre and Benson Centre or by calling 613-938-9400. They can also be purchased online via TicketPro (click here to purchase online).
Ticket Packages
A variety of ticket packages are also available for the event ranging from the full tournament – all 17 games – to the evening round robin games, the semi-finals and finals, opening day, championship day and more. Packages can also be purchased at the Benson Centre or Aquatic Centre or online via TicketPro (click here to purchase).
Special Nights
There will be plenty to see and do at the World Junior A Challenge in addition to the great hockey on the ice. Here's some of the special nights and activities to look forward to:
Dale Hawerchuk Night – Sunday, December 11 – 5 pm

USA vs Canada West

Cornwall Royals legend Dale Hawerchuk will be honoured with a special tribute and banner unveiling prior to the game. Members of the family will be in attendance.

Red & White Family Night – Monday, December 12 – 7 pm

Canada East vs Canada West

Dress in red and white and get in the spirit for this all-Canadian matchup! Enjoy a visit with Santa and take part in the Teddy Bear Toss sponsored by The Brick. Purchase a new teddy for $20 and get a chance to win a $1,000 gift card to The Brick! The funds raised will go to CHEO while the teddy's will go to Sparky's Toy Drive.

Charity & Colts Night – Tuesday, December 13 – 7 pm

Sweden vs USA

Join us at the rink for Charity Night! Admission will be $5 at the door with the donation of a food item for local charities! The Cornwall Colts, celebrating their 30th anniversary, will also be recognized at the game.

CAPE Night – Wednesday, December 14 – 7 pm

Canada East vs USA

It will be an out-of-this-world experience at the rink with superhero appearances in honour of CAPE, the Cornwall and Area Pop Event. You could also win tickets to CAPE 2023!

College Night – Thursday, December 15 – 7 pm

Canada West vs Sweden

Thursday is St. Lawrence College night at the rink. Students from far and wide are invited to come out and join in the celebration. There will be special interactions, giveaways and more!

Cornwall Square Fan Zone – Saturday, December 17th & Sunday, December 18th

Make sure to check out the Cornwall Square Fan Zone inside the Cornwall Civic Complex during the semi-finals and finals of the World Junior A Challenge! There will be interactive hockey-themed games, artifacts and displays from the Hockey Hall of Fame, NHL trophies and more!

Your Shot at a 10K Giveaway – Saturday, December 17th – 7 pm

Semi-final game

For every round robin game you attend, you can enter your name for a shot at $10,000! One lucky name will be drawn at Saturday evening's semi-final and the person (who must be in attendance) will have one shot at $10,000.
Schedule
The World Jr A Challenge will feature a total of 17 games – three exhibition games, 10 round robin games, the semi-finals on Saturday, December 17th and the championship medal games on Sunday, December 18th (bronze at 1 pm and gold at 5 pm).
Free Rides on Transit
Get to the game for free on Cornwall Transit! Cornwall Transit will be offering free rides throughout the tournament to fans heading to the game. Simply show your ticket and ride for free on any of the conventional bus routes.
Additional Info
Pick up a tournament schedule at the Benson Centre or Aquatic Centre or visit www.HockeyCanada.ca/WJAC for additional information.
About the World Jr A Challenge
Created in 2006 to showcase the talent in the Canadian Junior Hockey League, the World Junior A Challenge includes two Canadian teams – Canada East (NOJHL, OJHL, CCHL, LJHAAAQ, MHL) and Canada West (AJHL, SJHL, MJHL, SIJHL) – and three international entries, Latvia, Sweden and the United States.
The tournament has quickly become a highlight of the international hockey calendar for NHL scouts. The World Junior A Challenge has produced more than 300 NHL draft picks, including 51 selected in the first round – names like Boeser, Lindholm, Pastrnak, Schwartz, Tarasenko, Turris and Vasilevski.
For more information on Hockey Canada and the 2022 World Junior A Challenge, please visit HockeyCanada.ca.
#ExploreCornwallON
Looking for other fun things to do in Cornwall? Check out the Explore section of the Cornwall Tourism website for other fun-filled activities to keep you busy. Better yet, consider extending your stay with a night at one of Cornwall's great accommodations!
Related Articles
Photo credit:   Matthew Murnaghan / Hockey Canada Images
Categorised in: Arts and Entertainment, Business, Community, General, News, Sports