Chamber Awards Night to Recognize Business Excellence
January 5, 2023
Cornwall Ontario – Business and community leaders are gearing up for one of the most anticipated evenings of the year.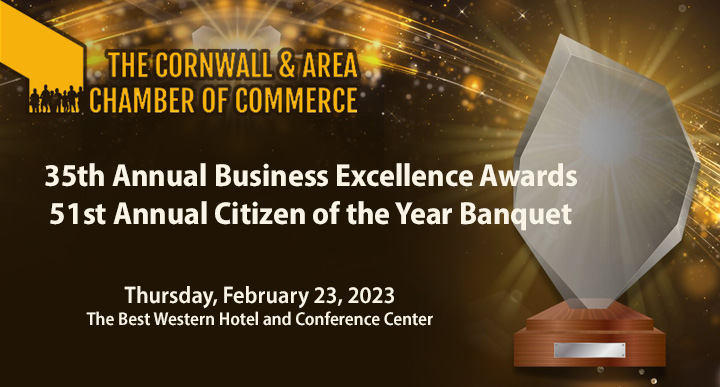 The 35th Annual Business Excellence Awards and the 51st Annual Citizen of the Year Banquet will take place on Thursday, February 23, 2023, at The Best Western Hotel and Conference Center.
"The evening is an elegant mix of networking and fantastic food, yet people are really there to celebrate success in the community," says Angela Bero, Manager of the Cornwall and Area Chamber of Commerce. "Anticipation builds throughout the evening as various business awards are handed out, leading to the announcement of Citizen of the Year."
The awards have been given out for over three decades. The Chamber collected nominations from the community during the month of September.
"We are very proud of each of the winners and finalists of this year's BEA+ 2022 Awards," says Ms. Bero. "Each one is exceptionally deserving of recognition for the work they do to make Cornwall and Area a great community."
Doors open at 5:15 pm, and dinner and Awards Ceremony start at 6:00 pm. The 2022 BEA+ magazine will also be unveiled during the evening.
"We are excited to host a more significant event this year, including a cocktail and hors d'oeuvres reception and dinner," says Ms. Bero. "Come mingle with us, we are there to enjoy ourselves, support other businesses and build relationships, making this event the ultimate networking opportunity."
Get Your Ticket
Limited quantities of tickets are available on a first come, first serve basis. Tickets can be purchased via the link below for $80 plus tax.
Business Excellence Awards
The Business Excellence Awards recognize firms and individuals who have distinguished themselves by fostering growth, innovation, community service and excellence in their sectors. The Business Excellence Awards have been handed out since 1988. The current line up of awards are as follows:
Community Impact Award
Entrepreneur of the Year
Environmental Impact
Inclusion & Diversity
Large Business
New Business of the Year
Small Business of the Year
Tourism Excellence
Young Professional
Lifetime Achievement Award
President's Award
Citizen of the Year
Since 1972, when the very first Citizen of the Year award was handed out, the Chamber has regularly honoured citizens who have made an outstanding contribution in the community. Nominations are evaluated with respect to ongoing leadership, dedication and the positive impact the individual has made on the community.
About the Cornwall Chamber of Commerce
The Cornwall and Area Chamber of Commerce is the unified voice of the region's business community speaking towards growth, leadership and innovation. With direction from the elected board of directors, the Chamber looks to continuously progress the community through political advocacy, knowledge-based development and innovative opportunities.
The Chamber has over 500 members.  For more information, please click on the following links:
The Cornwall and Area Chamber of Commerce is featured in the 2022 Year in Review report by Cornwall Economic Development.
Categorised in: Arts and Entertainment, Business, Community, General, News