Cline House Gallery Hosts International Artists
July 12, 2023
Cornwall Ontario – The Cline House Gallery is showcasing a little of international flair this summer.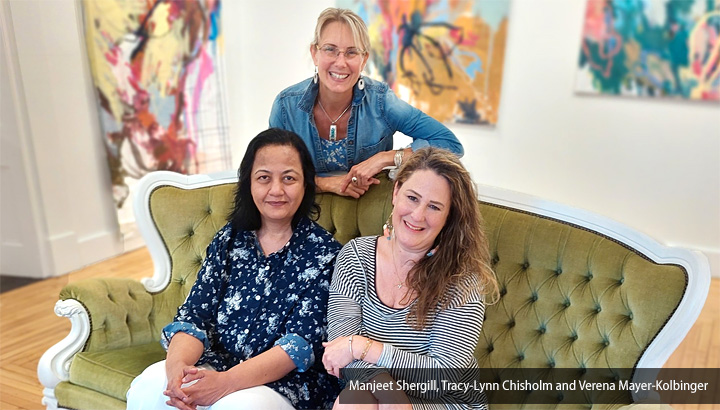 The Gallery is pleased to welcome international artists Verena Mayer-Kolbinger and Manjeet Shergill, along with local talent Tracy-Lynn Chisholm, in their exhibition Alchemy of Life.  Running from July 13th through September 2nd, the exhibition showcases the distinctive style and individual journey of each artist as they consider the magic of life and the transformative power of art.
Celebrating cultural backgrounds and unique creative processes, Alchemy of Life features the dynamic abstracts of Verena Mayer-Kolbinger (Germany), the contemplative portraits and serene still life subjects of Manjeet Shergill (Singapore) alongside the mystical dreamscapes and whimsical sculptures of Tracy-Lynn Chisholm (Cornwall).
"The universal language of art transcends borders and cultural boundaries. We are thrilled to bring together this incredibly talented trio of artists", said gallery coordinator Emily MacLeod. "Alchemists, like artists, create things that never existed before. When they look to the future, they see magic and possibilities. They lose themselves in the process of creating and within that exchange their energy is alchemized, and the art is what emerges".
Alchemy of Life Exhibition
The Alchemy of Life exhibition will run from July 13 to September 02 and is open to the public during gallery hours Thursday, Friday and Saturday 10am-4pm. Admission is free,  all art enthusiasts and interested community members are encouraged to experience this celebration of local and global artistic talent.
Visitors are invited to join the opening reception July 13, 2023 from 7:00 PM to 9:00 PM at the Cline House Gallery located at 204 Second St. E.  This special event will allow an opportunity to meet the artists, delve into their creative processes and engage in conversation about the works on display.
About the Cline House
The historic Cline House was built in 1854 and has served as a family residence, library, framing studio, tea room and art gallery.  The Cline House reopened in May 2022 to once again provide gallery space to showcase local and visiting artists as well as supporting visual arts programming opportunities for those who want to discover their own artistic talent.
Connect with Cornwall Tourism
Looking for other fun things to do in Cornwall? Check out the Explore and Events section of the Cornwall Tourism website for other fun-filled activities and events to keep you busy. Better yet, consider extending your stay with a night at one of our great accommodations!
Related Articles
Categorised in: Arts and Entertainment, Business, Community, General, News