Cline House Gallery Hosts Woven Woods Exhibit
August 31, 2022
Cornwall Ontario – A Canada-wide tour is making a stop at the Cline House Gallery in September.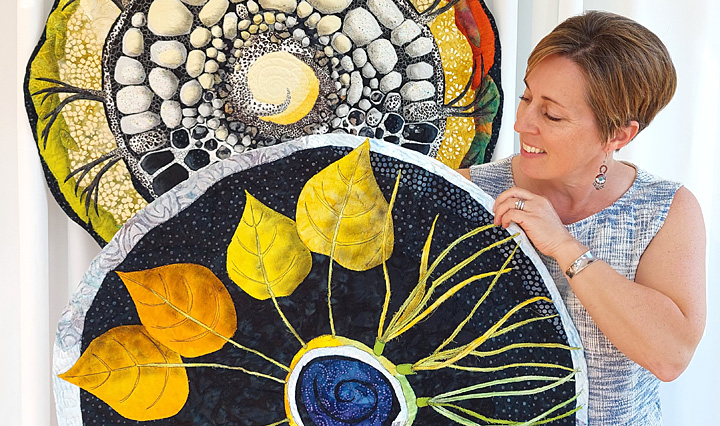 Woven Woods: A Journey through the Forest Floor is an exhibition of 12 oversized quilted wall hangings by scientist turned textile artist, Lorraine Roy. It will make its eastern Ontario debut in Cornwall on Thursday, September 8th, 2022 and will run until Saturday, October 29th.
"We are delighted to host Lorraine and her work in Cornwall," says Emily MacLeod, Visual Arts Coordinator, Cline House. "Her incredibly intricate pieces truly put the spotlight on nature's wonders."
Through Woven Woods, Ms. Roy explores the interconnectedness of art, science, and nature using raw edge machine appliqué techniques and embroidery. With a B.Sc. in Horticultural Sciences and decades of exploration in art textiles, the Dundas, Ontario artist spent five years realizing her vision and approached the unique series with an eye toward what lies beneath the surface of the forest floor. The results are beautiful, oversized, and infused with the symbolism of trees and their communication patterns.
"My intention is to arouse emotional connection by shining a warm light on nature's unforeseen forces," says Ms. Roy.
The Woven Woods exhibit will also be complemented by the work of esteemed artist Carmella Karijo Rother.
The Gatineau, Quebec artist has been creating simple and sophisticated organically shaped vessels of rope and other textiles for more than two decades. Her Affinities exhibit will highlight both previously produced and new works.
Both artists will be present at the Cline House Gallery during the Apples and Art Studio Tour weekend on Saturday, September 24th and Sunday, September 25th.
This nationally touring exhibition has been brought to Cornwall with the support of the Tourism Development Fund (TDF).
About the Cline House
The historic Cline House was built in 1854 and has served as a family residence, library, framing studio, tea room and art gallery.  The Cline House reopened in May 2022 to once again provide gallery space to showcase local and visiting artists as well as supporting visual arts programming opportunities for those who want to discover their own artistic talent.
Related Articles
Categorised in: Arts and Entertainment, Business, Community, General, News