Cornwall in 2021 – A Year in Review
December 16, 2021
Cornwall Ontario – Cornwall's economy continued to perform well across all sectors in 2021, according to a report prepared by Cornwall Economic Development.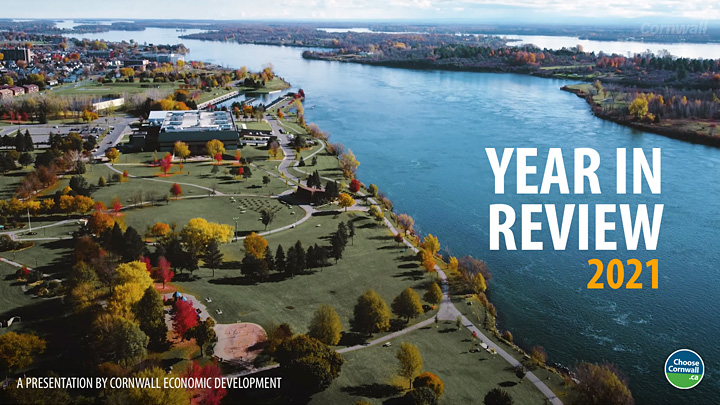 "The report outlines positive news from over 200 local businesses and community organizations," says Bob Peters, Division Manager of Economic Development. "Although growth varies from sector to sector, companies both large and small are adapting and succeeding."
The 2021 Year in Review report was delivered online on the Zoom web platform. This is the 24th year Cornwall Economic Development has delivered an annual recap of business news, with the first such report being prepared in 1998. Information for the report is gathered from such diverse sources as building permits, local media and submissions from local businesses.
The 2021 report recaps dozens of stories of investments and achievements by local companies and individuals. Mayor Glen Grant also spoke at the event.
"Companies in our city are amongst the best in the world, and while the pandemic may have affected us all, our businesses have rallied," says Mayor Glen Grant. "Local businesses have improved their operations, added new staff and invested in new technology. It is a good sign that Cornwall is well positioned for future growth."
2021 – Year in Review
Here are some of the highlights from Mr. Peters' presentation, which can be downloaded from the ChooseCornwall.ca website, along with reports from previous years.
Commercial
Dozens of commercial businesses opened or expanded operations in Cornwall this year, despite disruptions caused by the Pandemic. Notable trends include a number of new restaurants, new retail cannabis stores and mini-storage operations. These businesses have been supported by the Cornwall Business Enterprise Centre, Cornwall Chamber of Commerce and ACCFutures.
Industrial
Several local manufacturers, food processors and logistics companies expanded operations in 2021. This includes the completion of a new distribution centre for Loblaw, a $20 million investment by Walmart Canada in its Cornwall distribution centre along with investment and growth at a number of major employers, including Ridgewood, SigmaPoint, Laminacorr, Leclerc, Olymel and Laframboise Group.
Residential
Local developers increased the pace of building new homes across the city in a number of subdivisions and multi-tenant facilities. Permits for 257 new residential units were issued in 2021, representing an increase of 78% over the previous year.
Institutional
OPG continues to make significant investments at the R.H. Saunders Generating Station, St. Lawrence College launched new micro-credential programs and the City of Cornwall invested in new roads, facilities and infrastructure projects..
The above is just a sampling of the dozens of stories referenced in the 2020 Year in Review report, which can be downloaded in the Resources section of this website. There are also over 150 detailed success stories from 2021 in the News section.
Jobs
One of the trends noted in the 2021 Year in Review report was the positive job creation by local employers. It is estimated that over 500 jobs are available in the region at the current time. You can view job postings online on the ChooseCornwall.ca Job Board.
YourTV Broadcast
The Year in Review presentation will be broadcast live on YourTV Cornwall on December 26th. You can also view a recording of the presentation by YourTV on YouTube via the following link:
Categorised in: Arts and Entertainment, Business, Community, General, News