Cornwall Joins Digital Main Street ShopHERE Program
June 2, 2020
Cornwall Ontario – Cornwall is now a participating municipality in Digital Main Street's ShopHERE program, which seeks to help small independent businesses and artists develop online stores in just a matter of days.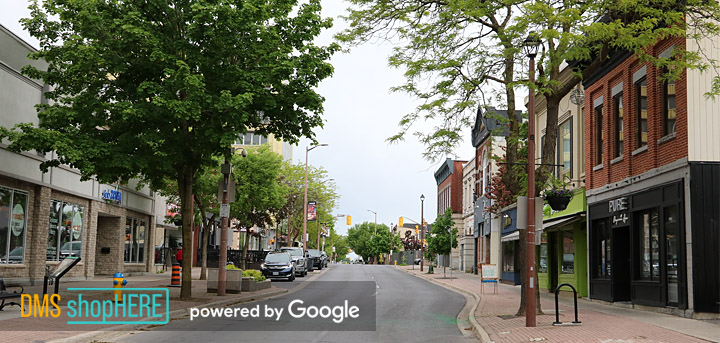 Businesses will receive an online store customized with their information and branding, hands-on assistance and training to support their online store and access to free tools and resources. The program is now available to small independent businesses in Cornwall that meet the follow criteria:
It is a registered business.
It has a commercial location or is home-based.
It has fewer than ten employees or fewer than 25 employees if a restaurant or bar.
It is not a corporate chain or franchise.
A different set of requirements may be in place for artists.
"We continue to advocate that small business owners more forward with enhancing their online presence," says Greg Pietersma, Executive Director of the Cornwall and Area Chamber of Commerce. "The Digital Main Street ShopHERE program can provide a lot of free expertise and guidance and we encourage local businesses to participate."
In May, Google Canada announced a one million dollar investment to enable Digital Main Street to expand the program to municipalities across the country, offering more businesses and artists the opportunity to build their own online store. Because the opportunities afforded by the digital economy are still limited if people don't have the right skills, Google's investment will also help more small businesses and artists receive the digital skills training needed to participate in the digital economy.
APPLICATION PROCESS
Local businesses and artists can now apply for the program to get their online store built at no cost.
"Since Google began its business in Canada nearly twenty years ago, we've been focused on helping Canadian businesses of all sizes to unlock the prosperity of the internet," says Sabrina Geremia, VP and Country Manager, Google Canada. "We remain optimistic and more determined than ever that technology is the toolkit for a world of opportunities. Our one million dollar investment will go towards expanding the ShopHERE program nationally, so we can help small businesses across Canada navigate the challenges ahead."
Digital Main Street is a program that helps main street businesses achieve digital transformation. Cornwall participated in the Street Squad program in 2019.  ShopHERE is supported by a number of community and corporate partners, including Toronto Association of Business Improvement Areas, Shopify, Google, Mastercard, Microsoft, Magnet, and The Schulich School of Business – York University.
ADDITIONAL RESOURCES

We summarize the latest news about the impacts of COVID-19 on Cornwall businesses on a daily basis. Click on the following link to view:
Categorised in: Arts and Entertainment, Business, Community, General, News