Cornwall Square Gears Up for Christmas
November 17, 2022
Cornwall Ontario – Cornwall Square has always been a key part of Christmas celebrations in the city, and this year promises to one of the best in recent memory.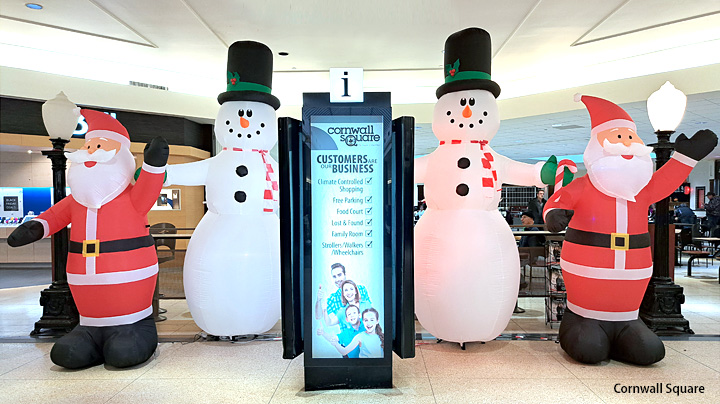 The indoor mall has switched into full seasonal mode and that includes welcoming new tenants and activities.
"As local owners we have worked hard to connect Cornwall Square to the community, and that includes special celebrations," says Tom Hughes, VP with the Weaving Baskets Group. "We are very pleased to welcome new merchants and even more exciting news is on the horizon."
New Stores
Over the past few weeks Cornwall Square has welcomed Urban Wear, the Christmas Store, Calendar Club and Hickory Farms. This year Hickory Farms and Calendar Club will share a large store which will be welcomed by hundreds of loyal customers looking to check off Christmas lists.
Floral Expressions has again returned to the mall with its seasonal Christmas store, filled with seasonal home décor items. The store is impeccably decorated and many of the eclectic items for sale are unique to the store.
Fall Art Exhibition
The Focus Art Association returns with their annual Fall Art Exhibition showcasing the works of over 30 local artists, on selected dates from November 17th to the 27th.
The Marketplace
The Marketplace welcomes local crafters and artisans each Thursday, Friday, Saturday and Sunday, from November 24th to December 14th, located on the main level next to Cleo.
Christmas Market
The popular indoor Christmas Market returns on Friday, December 9th and Saturday, December10th. The Christmas Market will feature local artists and artisans and vendor registration is currently underway.
Santa Claus
Santa's elves are busy at work preparing a special place where local children can meet Santa and get a photo with the big guy. Santa arrives November 20th at 11:00 a.m. and available hours will be posted in the Square's Facebook page as well as the Cornwall Square manager's weekly column in the Seaway News.
Gift Wrapping
Cornwall Square will once again be offering Gift Wrapping services at Cornwall Square during the holiday season – all in support of local charities!
About the Cornwall Square
Located in Downtown Cornwall, Cornwall Square is home to more than 50 national retailers and restaurants over two floors with an attached parking garage for easy access. The mall is just steps from dozens of other shops and restaurants in Downtown Cornwall and the picturesque Lamoureux Park, Cornwall's showcase waterfront park.
For more information on Cornwall Square, including a directory of stores and mall hours, please visit www.CornwallSquare.com.
Categorised in: Arts and Entertainment, Business, Community, General, News