Eastern Ontario Business Journal Profiles Cornwall and Region
April 22, 2022
Cornwall Ontario – Cornwall is featured prominently in the latest edition of the Eastern Ontario Business Journal.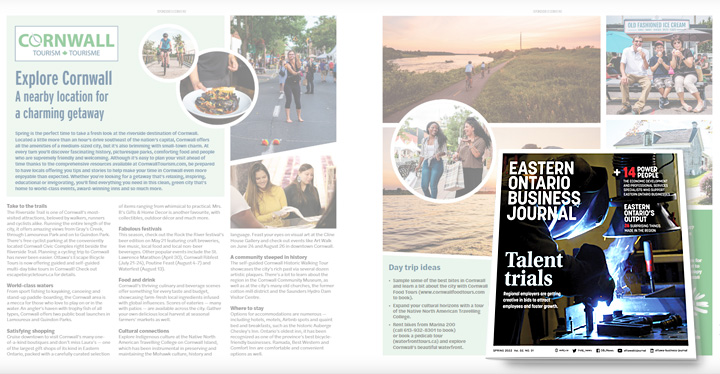 The third issue of Eastern Ontario Business Journal offers 48 pages that include profiles of a number of Cornwall businesses and people. The publication explores a number of aspects of the regional economy including tourism and manufacturing — as well as highlighting local economic development professionals. The cover story focuses on the drive to attract more workers to meet the needs of growing companies.
"Eastern Ontario has a number of lifestyle advantages," says Michael Curran, Publisher of the Ottawa Business Journal. "A slower pace of life, more personal connections with neighbours, clean air and wide open spaces."
The 2022 feature includes stories on the growth of the Cornwall Business Park, Walmart Canada's investment in the city, along with various local companies such as Biscuits Leclerc, Fieldless Farms, Morbern, Laminacorr, Cultivatd and more. Local accountant Paul Desnoyers of MNP is also profiled as are individuals and companies from SDG.
"Eastern Ontario may once have been the best kept secret in Canada," says Jay Amer, Executive Director of the Ontario East Economic Development Commission, whose members have been collaboratively marketing the region for over thirty years. "Now, thanks to the efforts of our members, and partners in business and government, we seem to be one of the hottest markets in the country, with active investment in job creating projects in many of our cities, towns and counties."
The publication includes a 14 page Eastern Ontario Staycation Guide, which explores the wide variety of activities, events and amenities that attract visitors to the region.
Talent Trials
The cover story explores the pressing need to attract workers to fill jobs in the region. There is an estimated 500 employment opportunities in the Cornwall region alone.  Current job postings can be viewed on the ChooseCornwall.ca Job Board.
About the Ottawa Business Journal
The Eastern Ontario Business Journal is published by the Ottawa Business Journal, which reaches over 90,000 business and community leaders in Ottawa. For the past three years the publication has carried increasing coverage of major business news from Eastern Ontario. You can read the third issue of Eastern Ontario Business Journal online here:
Related Articles