Fast Track to Setting Up an Online Store
June 11, 2020
Cornwall Ontario  – Local business owners looking to unravel the mysteries of building an online store can take advantage of an upcoming webinar from the Cornwall Business Enterprise Centre.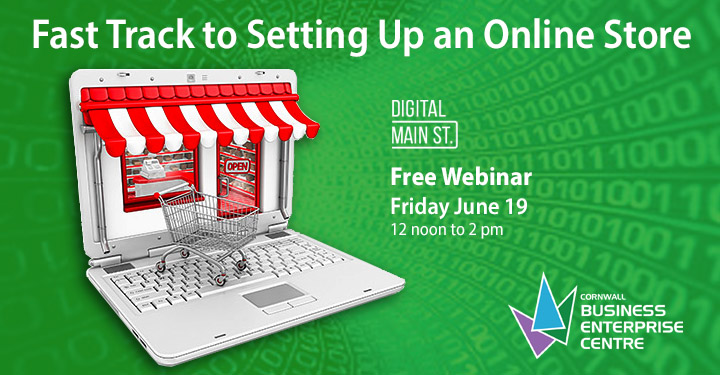 The webinar, scheduled for Friday, June 19th at 12 noon, will focus on the steps required to establish an on-line store, along with other digital marketing techniques. The webinar will also explore how merchants can access funding and other support from the Digital Main Street program.
"Business owners know they need to embrace digital marketing and sales yet many feel they do not have the skills or knowledge to do so," says Candy Pollard, Business Consultant with the Cornwall Business Enterprise Centre. "This webinar will explain in easy to understand terms the incredible assistance that is available to merchants right now."
The Ontario government, in partnership with the Federal government, recently announced a $57 million program that will help main street businesses impacted by COVID-19 'go digital' to generate new revenue, survive the pandemic and thrive in the new economy. Through Invest Ottawa, the program will assist small businesses reach more customers using the Digital Main Street platform – of which Cornwall is a participating community.
The program will employ talented local digital experts and students, who will help to facilitate the digital transformation and create sustainable commercial success of main street companies in sectors such as hospitality, retail, trades and services.
Businesses will be able to take advantage of three new programs to support their digital transformation:
• Digital Main Street Grant of $2,500 to assist businesses in adopting new technologies and embrace digital marketing
• Future Proofing Main Street provides specialized and in-depth digital transformation services and support to help firms adapt to changes and thrive in the new economy
• Recovery Activation Program helps businesses grow and digitize operations with custom consulting sessions, online resource sharing, learning webcasts and business planning
Webinar Details
Date: Friday, June 19th
Time: 12 noon to 2pm
The above webinar is one of series of free webinars put on the Cornwall Business Enterprise Centre. The Business Enterprise Centre is operated by Cornwall Economic Development in partnership with the Province of Ontario.
Background Information
Business Reopening Toolkit
Cornwall Economic Development has put together a toolkit to help businesses reopen. The toolkit includes guidelines and a maximum occupancy calculator along with signs and posters that can be downloaded and printed:

We summarize the latest news about the impacts of COVID-19 on Cornwall businesses on a daily basis. Click on the following link to view: