Great Wolf Lodge Indoor Water Park Planned for Cornwall
January 10, 2023
Cornwall Ontario – An American company is planning to build a massive $350 million indoor water park resort in Cornwall, Ont. If approved, Great Wolf Lodge will become one of this region's biggest tourist attractions.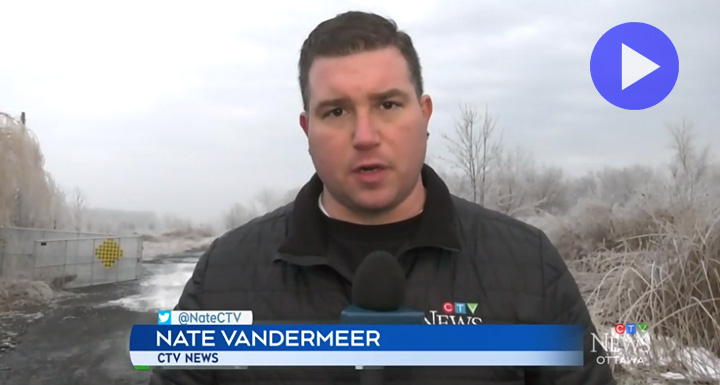 Click on the above image to view the CTV Ottawa video report by Nate Vandemeer.
For Summerheights Golf Links owner Rory MacLennan, the talk of the giant resort moving next door is exciting.
"When the news first broke within the city, it was the talk of the town for not just a week, a couple, to three to four weeks. It's still the talk of the town," MacLennan said.
The proposed site of a Great Wolf Lodge will sit just across Hwy. 401 from the golf course.
"With all these people over there swimming, I'm sure they're going to want to cross the road and play golf," he smiled.
Great Wolf Lodge is the largest family indoor water park resort in North America, and the company favours a key location in Cornwall to build the next resort.
It has agreed to purchase 40 acres of vacant land in the city's northeast corner.
"It will generate over 600,000 visits a year to eastern Ontario and greatly impact the tourism sector in Ottawa, Brockville, Kingston, and throughout the region," Cornwall's Manager of Economic Development Bob Peters said.
He notes part of the sale agreement is that road and infrastructure construction needs to begin this year, with that work expected to take around 16 months.
"Great Wolf is currently in their due diligence and doing the work that they need to prepare for the start of their construction project, which hopefully will begin towards the end of 2024 and be built out through 2025," Peters said.
"If you've ever been to Great Wolf Lodge, it's going to be their latest and best experience that includes not only an indoor water park but an indoor activity centre, over 600 guest rooms and just a phenomenal company," Peters added. "The growth of their company has really resounded and connected with families across North America."
There is another Great Wolf Lodge in Niagara Falls, Ont., but that one is under a different ownership group.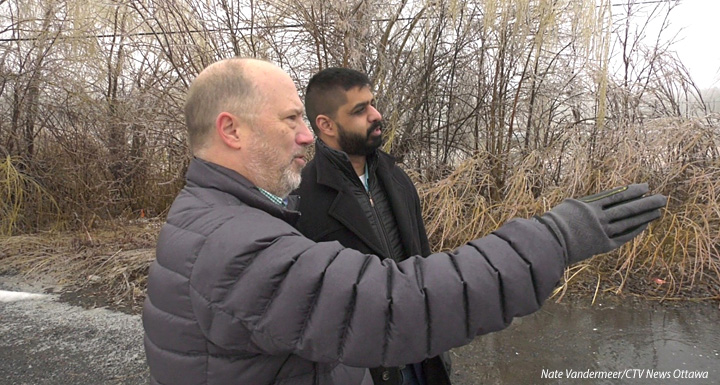 Cornwall Manager of Economic Development Bob Peters (right) speaks with Cornwall Mayor Justin Towndale at the end of Tollgate Road East in Cornwall. The area is here where 40 acres of land was purchased for the Great Wolf Lodge resort. 
This new water park will be managed by Great Wolf Resorts.
"This will be their first corporate investment outside of the U.S. and they hope to expand to the U.K. and to Mexico as well, but Canada first, eastern Ontario first obviously, Cornwall first," Peters said.
"I get the impression though that everything is green lights and everything is proceeding as they would expect it to," he added.
The $350 million investment would change the landscape of the region, according to Cornwall's mayor. Justin Towndale says the resort would create 500 jobs and bring in visitors from up to six hours away, including the U.S. northeast.
"There's an excitement in the air that you can feel, it's palatable," Towndale said. "I mean this is the kind of thing, it's such a draw and it's not just to bring tourism to the city but it's something for our residents to do, for kids to do."
"The 401 runs a little north of the city of Cornwall, but you don't see a lot of the city from the highway, so this is going to put a very large footprint right along the major thoroughfare in this part of the country, and everyone is going to have to see it when they drive by," Towndale added.  "It's just going be quite a significant change for the city."
"If you live in eastern Ontario, having someplace warm and wet to go to in February is never a bad thing," Peters laughed.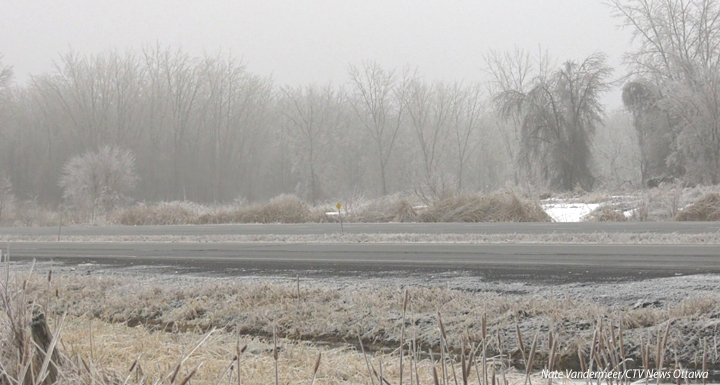 The location of the proposed Great Wolf Lodge resort along Hwy. 401 in Cornwall, Ont. 
Towndale noted the investment is a once-in-a-century type deal for the region.
"It shows what we have to offer as a community, what we can offer to Ontario, what we can offer to eastern Ontario and it's just fantastic that Great Wolf Resorts is showing this kind of faith in us."
"The city is behind this 100 per cent. Whatever we can do to make this project happens, absolutely," Towndale said.
For MacLennan, he says work on the project cannot begin soon enough.
"The whole spinoff that we are going to get here in Cornwall, we are so perfectly located between Ottawa, Montreal and Toronto – it's an easy spot to come to." he said.
"Everybody is excited. We're close to the American border so the way our dollar is I'm sure we'll see a lot of American dollars over here too."

Quick Facts on Great Wolf Resorts
 The City of Cornwall and Great Wolf Resorts have an accepted Agreement of Purchase and Sale for 40 acres
 The deal is conditional upon extension of new road/municipal services being constructed
 Location is best described as at the northern end of the future extension of Nick Kaneb Drive (adjacent to Highway 401)
 Great Wolf Resorts continues to conduct its due diligence
 Mayor Justin Towndale and MPP Nolan Quinn are actively working to promote this project
 Generational opportunity that would have significant positive impact not only locally, but throughout eastern Ontario, including Ottawa, Brockville, Kingston and notably Upper Canada Village and the Parks of the St. Lawrence
Project Details
 New year-round world-class tourism attraction for eastern Ontario
 Expected to attract 670,000 visits annually (the majority from outside of Ontario)
 500 direct jobs to be created
 Over 2,500 construction jobs estimated
 $350 million investment (foreign direct investment – FDI)
 Great Wolf is the largest family of indoor water park resorts in North America
Related Links
The above article was originally published by CTV Ottawa by Nate Vandermeer. You can view the original report here.
Great Wolf Lodge is featured in the 2022 Year in Review report by Cornwall Economic Development.
Categorised in: Arts and Entertainment, Business, Community, General, News