Ontario Modifies Rules for Restaurant Dining
March 20, 2021
Cornwall Ontario— Ontario has adjusted dining capacity limits at restaurants, bars and other food and drink establishments for the the Cornwall region.  The move is part of changes for regions in the Grey-Lockdown, Red-Control and Orange-Restrict levels of the Framework, and became effective Saturday, March 20, 2021.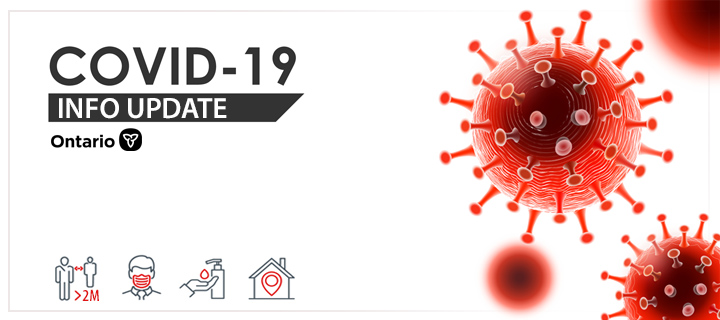 Cornwall is currently in the Orange-Restrict level.
"With the significant and increasing risk of COVID-19 variants, the next few weeks will be critical in our fight against COVID-19," said Christine Elliott, Deputy Premier and Minister of Health. "Thanks to the tireless efforts of our frontline health care workers we continue to accelerate our vaccine rollout, but until all Ontarians can receive the vaccine we must not let our guard down and continue following public health advice. This remains our best defense."
For regions in the Orange-Restrict and Red-Control levels, capacity limits for indoor dining will be adjusted and based on a standard, scalable calculation that will allow for up to approximately 50 per cent of the indoor dining area to be accessible to the public, subject to physical distancing rules. The total occupancy cannot exceed 50 patrons in Red-Control and 100 patrons in Orange-Restrict.
Please view the regulations for full details.
To ensure the continued safety of patrons and workers, public health and safety measures in indoor and outdoor settings would be strengthened in the Orange-Restrict, Red-Control and Grey-Lockdown levels in the Framework. These measures include, but are not limited to:
"While some regions are proceeding to levels with less restrictive measures and adjustments are being made to dining capacity, everyone must continue to adhere to all public health and workplace safety measures," said Dr. David Williams, Chief Medical Officer of Health. "We have entered the third wave of the pandemic and the rates of variants of concern continue to rise so it is important that people remain cautious and vigilant in order to minimize the transmission of COVID-19 and protect themselves and their communities."
Quick Facts
Additional Resources
Business Reopening Toolkit
Cornwall Economic Development has put together a toolkit to help businesses reopen. The toolkit includes guidelines and a maximum occupancy calculator along with signs and posters that can be downloaded and printed:

We summarize the latest news about the impacts of COVID-19 on Cornwall businesses on a daily basis. Click on the following link to view:
Categorised in: Arts and Entertainment, Business, Community, General, News