Patio Season Returns to Cornwall
June 12, 2020
Cornwall Ontario – Patio season is back in Cornwall!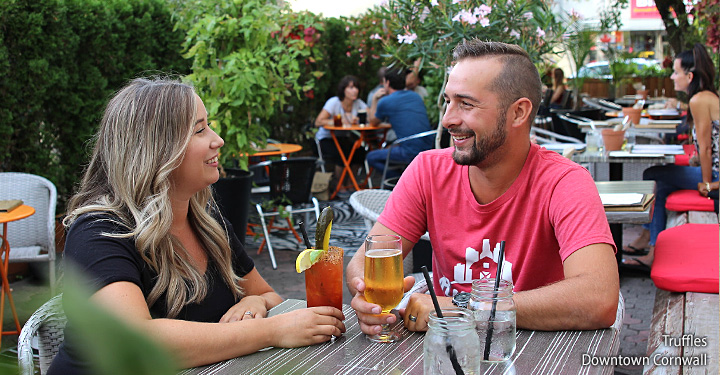 Today is the day that Ontario enters Stage 2 of its reopening strategy, meaning that restaurants can now offer outdoor dining service on patios. It is a step that many local restaurants – and foodies alike – have been anxious to see.
"We are very much looking forward to seeing everyone in the fresh air this weekend!" said Michael Baird, co-owner of ESCA Pizza. "Reservations have been coming in fast and we're very grateful that our customers continue to support us."
In Cornwall, much like the rest of Canada, patio season is an important part of city life as people embrace warm sunny skies. It is an important part of social interaction that allows friends and family to connect over a drink and good food.
Just down the street from ESCA, Schnitzel's large patio on Pitt Street will open with over 30 seats available for patrons.
"We are fortunate that our patio is large enough that we can still recreate the special experience of enjoying good food with friends," said Hassan Rafiei, owner of Schnitzels. "Our staff is very excited to bring back some energy to Downtown Cornwall and we encourage people to do a little bit of shopping before or after a patio visit."
Across the street from Schnitzel's, Truffles is set to open its cozy patio with a new menu.
"We're excited to be back!!!" said Dominique Gilgen. "Our new patio menu will feature both Table 21 and Truffles favourites, like oysters and lobster bisque, burgers and pasta. We have a daily sangria by the pitcher featured and of course the quarantine will be flowing all day."
Public health guidelines have required each restaurant to ensure that proper social distancing measures are in place. Tables will be sanitized after each use, and customers will be able to use the washrooms inside.
"The safety of our customers and staff is our top priority," said Mr. Rafiei. "We are all in this together."
Many restaurants are also looking at options at expanding their patios to accommodate more patrons. The Ontario government is allowing restaurants and bars to temporarily extend outdoor patio spaces, provided they meet applicable municipal regulations.
The City of Cornwall is also helping restaurants and merchants in the downtown and Le Village Shopping Districts by providing complementary 2 hour parking at municipal lots and on-street metered spots.
Business Reopening Toolkit
Cornwall Economic Development has put together a toolkit to help businesses reopen. The toolkit includes guidelines and a maximum occupancy calculator along with signs and posters that can be downloaded and printed:

We summarize the latest news about the impacts of COVID-19 on Cornwall businesses on a daily basis. Click on the following link to view: