Space 108 Adds New Dimension to Shopping Downtown
November 30, 2022
Cornwall Ontario – When long time business owner Chris Munro relocated her store Life's Little Pleasures a block south to 54 Pitt Street, she was left with a dilemma: What to do with her former shop?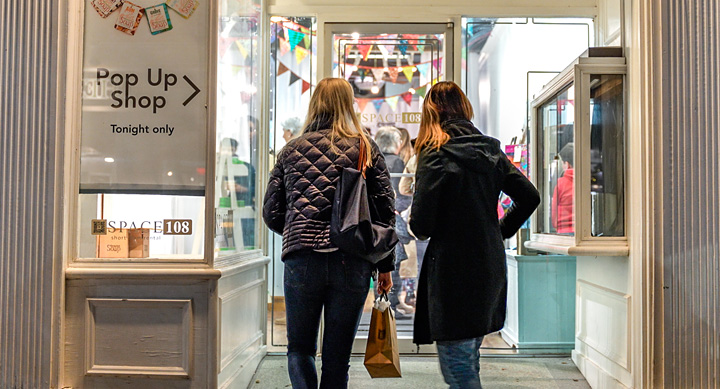 Together with her daughter Sarah Seguin, the duo took a step back and time to think about the building's future. A few years ago Sarah had hosted Downtown Cornwall's first short-term pop-up shop within her mother's store. She ran her clothing boutique out of a small 100 sq.ft. space and had an amazing summer of business, supported by the community.
Sarah came to realize that the empty storefront was the perfect opportunity to provide other local entrepreneurs with the same experience. That's how Space 108 was born.
Located at 108 Pitt Street, Space 108 is a short-term commercial rental space comprising of about 700 square feet. The space debuted at the recent Shop the Blocks event, when local soap manufacturer Ground Soap took over the space for one night.
"It's like Airbnb, but for business," Sarah explains. "Our goal is to provide a versatile space to support entrepreneurs all while complementing Cornwall's established downtown merchants, that we all know and love!"
The pair is hoping that by offering this space for rent, that it will provide a hub for businesses, artists and locals the opportunity to discover, and support each other by shopping local.
"I am a big believer in the importance of Downtown Cornwall, supporting the community and shopping local and hoping this venture facilitates that," says Sarah. "Our new space will provide the perfect blank canvas for pop-up shops, brand and product launches, workshops, art showings and special events!"
Interest is high and opportunities to rent the space are likely to disappear as the Christmas shopping season kicks into high gear. People looking to rent Space 108, can reserve dates on their website:
You can also follow Space 108 on Facebook to remain in touch with local entrepreneurs!
Related Articles
Photo provided by Cameron Forrester of Forrester Films.