The Cline House Hosts Vantage Points Exhibit
May 17, 2022
Cornwall Ontario – Art lovers will have a chance to see amazing works up close at The Cline House.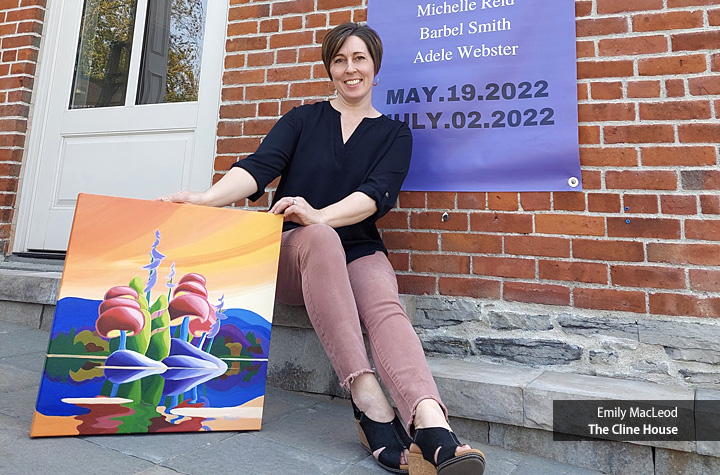 The Gallery's first exhibit, Vantage Points, is set to open on Thursday, May 19 at 7 pm. Vantage Points features the work of six talented artists who apply varying methods and imaginative processes for perceiving, interpreting, and translating the reality of nature into the language of art. The show will feature the work of Cynthia Gatien, Sylvie Labrecque, Kathleen Morin, Michelle Reid, Barbel Smith and Adele Webster.
"Through their unique expression of line, colour, form and pattern, each artist invites us to escape into the natural world, calling us to explore the idea of what landscape represents and how we observe the magic in the space around us," said Emily MacLeod, Visual Arts Coordinator with the City of Cornwall.
Vantage Points will be at the Cline House Gallery from May 19 to July 2, 2022. Visiting the gallery is free and parking is available.
About the Gallery
The opulent architecture of Cornwall's historic Cline House provides the ideal backdrop for rotating exhibitions of visual art featuring the work of both local and visiting artists. The gallery also offers rental space to host meetings, intimate cultural events and private gatherings.
Workshops
The Cline House's first workshop is planned for May 28. Workshops typically are 3-4 hours in duration and participants are provided with all of the materials necessary to complete the project:
May 28: Mystical Methods in Watercolour with Linda Norton
June 6: Tulip Dance Acrylic Painting Workshop
June 11-12: Let it Glow! Acrylic Glazing Workshop (two day workshop)
Open Studio
In addition to the workshops, the Cline House will also be offering local artists the chance to book an easel in the Open Studio sessions. Artists bring their own materials and work at their own pace on their own projects. Open Studio sessions are booked in 3 hour blocks, starting May 26.
About the Cline House
The historic Cline House was built in 1854 and has served as a family residence, library, framing studio, tea room and art gallery.  The Cline House reopened in May 2022 to once again provide gallery space to showcase local and visiting artists as well as supporting visual arts programming opportunities for those who want to discover their own artistic talent.
Related Articles
Categorised in: Arts and Entertainment, Business, Community, General, News