The River Insitute Receives Ontario Trillium Foundation Support
June 27, 2023
Cornwall Ontario – The River Institute is the recipient of a $70,000 Resilient Communities Fund grant from the Ontario Trillium Foundation.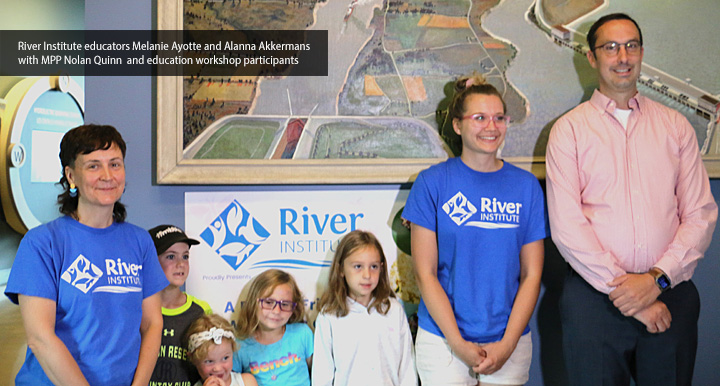 "As many of us know in the region, the River Institute is world renowned for the quality of education it provides to our local schools as well as sharing best practices with institutions around the world," said Nolan Quinn, MPP for Stormont-Dundas-South Glengarry. "The $70,000 Resilient Communities Fund grant from the Ontario Trillium Foundation will ensure that the River Institute is able to provide top quality education for years to come. This grant will help the institute implement virtual and hybrid delivery methods."
Over the last 28 years, the River Institute's unique, hands-on environmental education programs have inspired students and motivated young people to pursue STEM careers in science, technology, engineering, and math through school workshops, learning resources, festivals, special events, summer camps, volunteer opportunities, and paid internships.
This OTF Resilient Communities Fund grant will help the River Institute's Education team take advantage of new skills and approaches developed during the COVID-19 pandemic to increase access to education programming for Eastern Ontario communities, including through the use of virtual and hybrid delivery methods. The funds will further increase the River Institute's resilience and ability to adapt to changing community needs into the future through support to build technology capacity.
"The Resilient Communities Fund is providing critical support to help our education programs learn and grow from experiences during the pandemic, to become more resilient to future challenges," said River Institute Program Leader for Education, Dr. Brian Hickey.
The Ontario Trillium Foundation is an agency of the Government of Ontario and one of Canada's leading granting foundations.  Last year, OTF invested over $110M into 1,022 community projects and partnerships, which included funding for the Government of Ontario's Community Building Fund.
About the River Institute
The River Institute was established in 1994 as a unique community partnership involving the City of Cornwall, the Mohawks of Akwesasne, government, education, business, and industry. Its mandate is environmental research and education with a focus on the Great Lakes / St. Lawrence River ecosystem. The River Institute is a non-governmental, charitable organization and works in partnership with a wide variety of individuals, groups, agencies, and communities to fulfill its environmental mission.
Related Articles
Categorised in: Business, Community, Environment, General, News