Discover local artists at Cornwall Art Walk
July 26, 2018
Cornwall Ontario – The second edition of the Cornwall Art Walk returns on Thursday, July 26th with a number of participating artists and sites.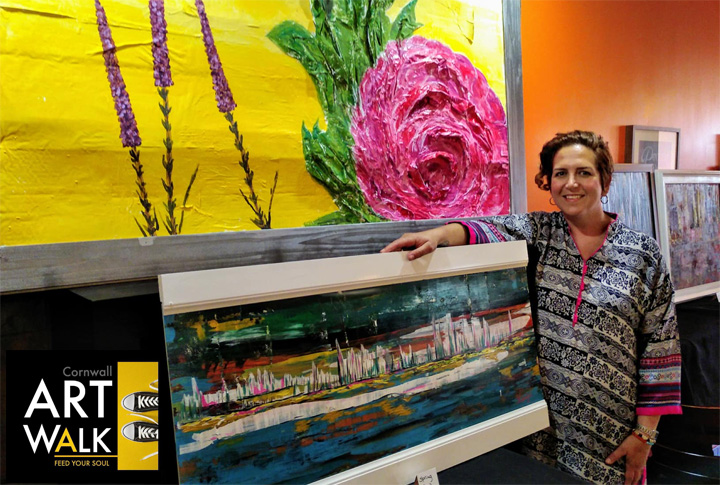 Art Walk kicked off last month with artists displaying their work in windows and on the walls of Downtown businesses.  The artists will be present to paint or draw during the evening and to talk to people about their art. The event runs from 6 pm to 9 pm.
"Our first Art Walk was  well attended and the second edition is shaping up to be even bigger and better," says Tracy Davies of Cailuan Gallery.
If you're heading Downtown to take in the Downtown Summer Celebration or Ribfest, make sure to check out some of these participating Art Walk sites:
Future Arts and Culture Centre (159 Pitt Street)
Join us at the next Art Walk as the doors are opened at 159 Pitt Street (the former Bank of Montreal building) for public viewing. This will be the first opportunity for members of the public to view the building before renovations begin to convert the classic structure into the Arts and Culture Centre of the City of Cornwall. Stop in and share your ideas! The architectural sketches contained in the feasibility study by VG+ Architects will be displayed and survey forms will be available. City staff and members of the Collective for the Centre for the Arts will be on hand to answer questions and facilitate responses.
There will be a pre-Art Walk photo op at the building at 4 pm – everyone is welcome to attend!
Fantasy Realm (227 Pitt Street)
One of Cornwall's favourite Downtown shops will be participating in the Art Walk. Ryan Grant of Ryan's Art will be the featured artist for the evening and the store will have comic books for the kids to colour and take home.
Cailuan Gallery (225 Pitt Street)
Stop by this beautiful gallery during Art Walk and enjoy an evening of fine art, live painting and a performance by the talented Danielle Vaillancourt.
Cline House Gallery (204 Second Street East)
The Cline House Gallery will mark Art Walk with the opening of a new show, 'Harmony,' by J.P. Leclair. Mr. Leclair is a local assemblage artist whose pieces are as intricately built as they are complex in their interpretations. His creations open a mysterious door through which our curiosity is persuaded to enter. Meet the artist from 7 pm to 9 pm!
Love Love Food (109 Pitt Street)
A popular Cornwall bistro returns for the second edition of Art Walk, hosting mixed media artist and photographer Jacqueline Milner. A young assistant will be on hand to help younger visitors with making a finger puppet out of something you might find in your recycle bin. What is 'something?' You'll have to stop in to find out!
Pitt Street Studios (125 Pitt Street)
125 Pitt Street Studio is a shared space where 14 local artists come together to create, collaborate and support artistic endeavours. Drop in and check out some amazing art! The Glengarry Ramblers will be on hand to provide some live entertainment during Art Walk and Janet St. Pierre of In the Now Yoga & Wellness will be offering chair massages!
Bicycle World (150 Pitt Street)
Enjoy some improv comedy in front of Bicycle World and the former Bank of Montreal building! Starring Alex Merizzi, Neil Carriere, Brett Desrosiers and Richard Salem. Warning: may trigger laughter and contentment.
11 Second Street West
Artists Kristine Picken and Mandy Prevost will be showcasing their work at the former Cottage Blue (beside Gordon Jewellers).
Other participating artists and sites include Pommier Jewellers (Focus Art), Bodystream (Chad Coleman), CIBC (Louise Mignault and Jacqueline Milner), Homefinder Group (Virginia Lake), Celtic Treasures (Norma O'Collin), The Squire Shop (Suzanne Rowlands), Dempster's Frameworks (Jacqueline Milner) and Life's Little Pleasures.
Future Art Walk dates include August 23rd and October 3rd. For more information on Art Walk, please follow these links:
Categorised in: Arts and Entertainment, General, News