Annual River Symposium Celebrates 30 Years this October
September 13, 2023
Cornwall Ontario – For the last three decades, the River Symposium has provided a unique platform for researchers, educators, students, environmental professionals, policymakers, and members of the public to connect and share knowledge in support of freshwater ecosystem conservation and sustainable resource management.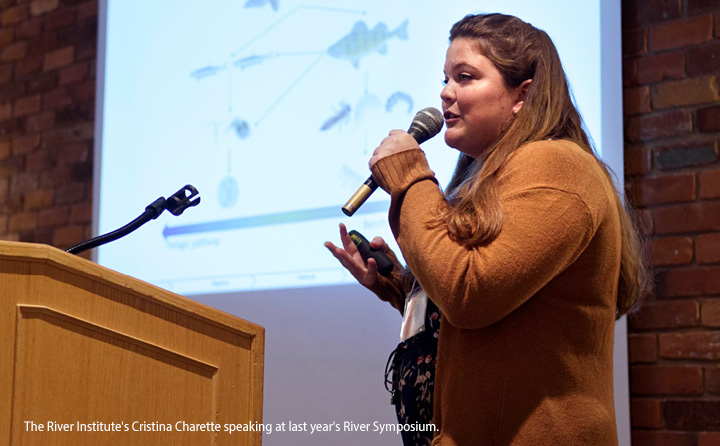 This year's River Symposium will take place October 25th to 27th. It will be a three-day hybrid event that will include two in-person days hosted at the Cornwall Civic Complex, October 25th and 26th, and one fully online day on October 27th.
In honor of the event's 30th anniversary, this year's theme A River Through Time will invite participants to explore lessons from the past and present to inform a more sustainable future.
This event will feature booths, an interactive art installation, a youth-oriented networking event hosted by Water Canada, a science competition for regional high school students, as well as a fundraising dinner and celebration on October 25th.
Keynote Speakers
Keynote speakers will include:
Tony David, the Director of the Saint Regis Mohawk Tribe Environment Division
Dr. John Farrell, Professor of Aquatic and Fisheries Science & Director of the Thousand Islands Biological Station
Nathalie Lasselin, an underwater explorer and filmmaker (Aquanath Underwater Films)
Dr. Jeff Ridal, the Executive Director at the River Institute
Registration is Free
Registration for the River Symposium is free and open to the public, with space for the in-person days made available on a first-come basis. For those unable to attend in-person, all presentations and talks will be live-streamed for virtual attendees, and recordings will be made available following the event.
Registration, as well as tickets for the dinner are available on the event website:
About the River Institute
The River Institute was established in 1994 as a unique community partnership involving the Mohawks of Akwesasne, government, education, business and industry. Its mandate
is to conduct environmental research, education, and outreach with a focus on the Great Lakes / St. Lawrence River ecosystem.
Related Articles
Looking for other fun things to do in Cornwall? Check out the following articles
Be sure to visit the Cornwall Tourism website for information on upcoming events, accommodations and more.
Categorised in: Arts and Entertainment, Business, Community, Environment, General, News