Cornwall Regional Airport Celebrating 50 Years of Aviation
September 14, 2023
Cornwall Ontario – The Cornwall Regional Airport is hosting a community celebration on Saturday, September 30th to mark its golden anniversary.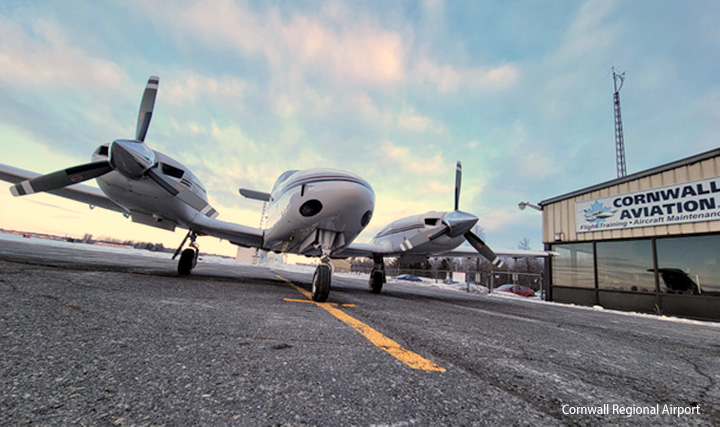 Residents and visitors alike are invited to stop by the Cornwall Aviation building at the airport from 1 pm to 4 pm to celebrate 50 years of flying. There will be entertainment, displays, photo ops, meet and greet opportunities with pilots and more.
There will also be an official ceremony at 2 pm and some classic airplanes on display (weather permitting) including some World War II vintage aircraft and a deHaviland DHC1 Chipmunk, a 1950's vintage Royal Canadian Air Force trainer.
The Chipmunk was one of four aircraft owned by Stefan Toczyski, the man who's vision started the idea of a local airport in 1973. A World War II veteran, Toczyski came to Canada and started a successful engineering firm while also pursuing his passion for flying – and the airport grew from there.
"We're going to try and recreate (those early days) at the celebration," said Steve Small, Airport Manager.
Located just east of Cornwall in Summerstown, the Cornwall Regional Airport was family-owned until 1984 when it became a municipal airport supported by the City of Cornwall and Township of South Glengarry. You can learn more about the history of the airport here.
The 50th anniversary celebration will give residents and visitors a chance to see the facility up close.
"It's a good opportunity to see the airport first-hand and discover all that it has to offer,"  adds Mr. Small.
About the Cornwall Regional Airport
Cornwall Regional Airport is located in the Township of South Glengarry and services the United Counties of Stormont Dundas and Glengarry (SDG) and the City of Cornwall. The airport is predominantly used for recreational purposes and small craft flight training, as well as providing a base of operations for medical emergency transport, search and rescue and police operations. The airport is operated by the Cornwall Regional Airport Commission, which is jointly funded by the City of Cornwall and Township of South Glengarry.
Key Facts
The Cornwall Regional Airport is located 13 kilometres east of the City of Cornwall just south of Highway 401 and is open year-round. Facilities include:
3,500-foot by 100-foot runway.
100 LL Avgas
Jet Fuel
Fuel is available through a 24-hour self-serve card lock system. All grades of aviation oil are also available.
Aircraft maintenance services are available.
Flight training schools operate from the Airport
The airport is licensed for day and night VFR and IFR operations. UNICOM and the ARCAL is on 122.775 MHz. Detailed aviation information is available in the Canada Flight Supplement.
Related Links
Related Articles
Looking for other fun things to do in Cornwall? Check out the following articles
Be sure to visit the Cornwall Tourism website for information on upcoming events, accommodations and more.
Categorised in: Arts and Entertainment, Business, Community, General, News