Hurry Hard to the Shorty Jenkins Classic
September 20, 2023
Cornwall Ontario – The ice is ready and excitement is high as the Shorty Jenkins Classic returns this week to the Cornwall Curling Centre.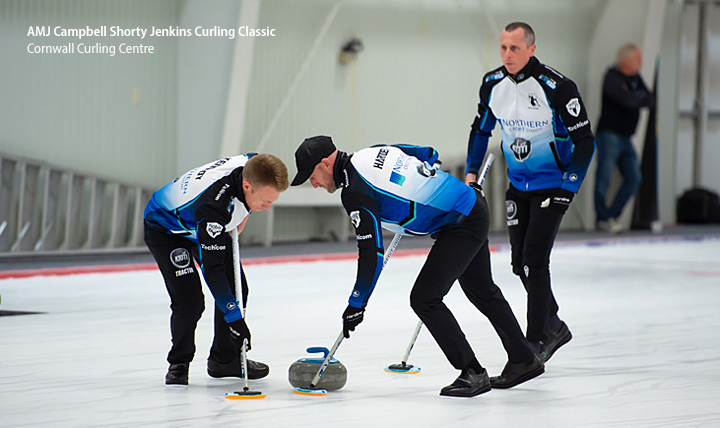 The AMJ Campbell Shorty Jenkins Curling Classic features some of the world's top curling teams and kicks off today, Wednesday, September 20th and continues through the week, culminating with the semi-finals and finals on Sunday, September 24th.
The men's and women's rosters for the event reads like a virtual who's who in the curling world. The men's side features names like Epping, Howard, Gushue and Edin while the women's competition features Tirinzoni, Jones, Inglis and many more.
Cornwall's own Mat Camm is also a regular at the tournament as a member of Team Epping.
"We are very excited for the return of this premier event here in my hometown. The strength of the competitors that this event attracts is invaluable in our pursuit of ranking points, helping us to qualify for the Brier and the next Olympic Trials," said Mat Camm, who serves as Vice on Team Epping. "We hope to see everyone in the stands supporting us as we try to win the Shorty Classic for the third time."
Get your tickets!
Tickets for the Shorty Jenkins Classic are now available via Eventbrite online. Tickets are $25 for the day for the round robin action (Wednesday to Saturday) and $35 for the semi-final and final draws on Sunday. A full tournament pass is also available.
Click here to purchase tickets online
Please note additional service fees apply for online purchases.
Tickets will also be available at the door during the event.
Additional info
The AMJ Campbell Shorty Jenkins Curling Classic is one of the longest running professional curling events in Canada and features one of the highest combined purses. It was not held from 2020 to 2022 due to the pandemic. This will be the 24th year for the Shorty Jenkins Curling Classic and the sixth year being held in Cornwall. The bonspiel is named in honour of Shorty Jenkins, who was widely regarded as one of the most innovative and influential ice makers in the sport of curling.
For additional information and updates on the tournament, please visit the Shorty Jenkins Classic Facebook page.
About the Cornwall Curling Centre
One of Ontario's oldest curling clubs enjoys a modern, state-of-the-art curling facility on the banks of the beautiful St. Lawrence River in Cornwall. The facility sports six sheets of ice that are in constant use by adults and kids alike. The Centre is located at 220 Water Street East, next to the Cornwall Aquatic Centre and Cornwall Civic Complex. Ample free parking is available.
Related Articles
Looking for other fun things to do in Cornwall? Check out the following articles
Be sure to visit the Cornwall Tourism website for information on upcoming events, accommodations and more.
Categorised in: Arts and Entertainment, Business, Community, General, News, Sports