Cornwall Profiled in the 4th Edition of the Eastern Ontario Business Journal
April 18, 2023
Cornwall Ontario – Cornwall is once again featured prominently in the latest edition of the Eastern Ontario Business Journal.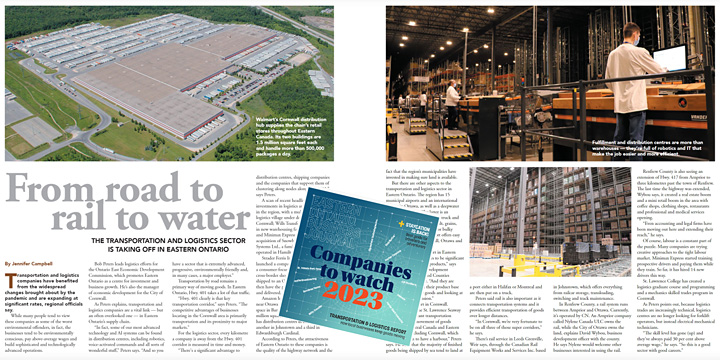 The fourth issue of Eastern Ontario Business Journal is also the biggest – offering 52 pages that include profiles of a number of Cornwall businesses and people. The publication explores a number of aspects of the economy of the region that directly links all three of Central Canada's top urban markets – Toronto, Ottawa and Montreal.
"It's fascinating to reflect on the evolution of some many communities in Eastern Ontario," says Anne Howland, Editor in Chief of the Ottawa Business Journal.
The 2023 feature includes stories on several local companies including SigmaPoint Technologies,  which is identified as a 'company to watch'. EOBJ also covers the planned development of the Great Wolf Lodge in the Cornwall Business Park.
Focus on Logistics
One of the key section on this year's EOBJ is the 16-page Transportation and Logistics Report. The special feature includes an in-depth look at the sector including a feature article that profiles both Walmart and Loblaw distribution operations in the region, and the growth of local companies such as Minimax and Wills Transfer.
"In some form or other, transportation and logistics have written the history of the region and will certainly shape its future," says Ms. Howland.
Staycation Guide
The publication includes a 14 page Eastern Ontario Staycation Guide, which explores the wide variety of activities, events and amenities that attract visitors to the region – including a 2-page spread that invites people to explore Cornwall.
About the Ottawa Business Journal
The Eastern Ontario Business Journal is the sister publication to the Ottawa Business Journal, which reaches over 90,000 business and community leaders in Ottawa. For the past four years the Ottawa Business Journal has carried increasing regular coverage of major business news from Eastern Ontario, culminating in the EOBJ which is published each spring. You can read the fourth issue of Eastern Ontario Business Journal online here:
Related Articles