Downtown Summer Celebration Returns This Week
July 22, 2019
Cornwall Ontario – Downtown Cornwall promises to be wall-to-wall sales, smiles and smells as the 2019 edition of the Downtown Summer Celebration gets underway.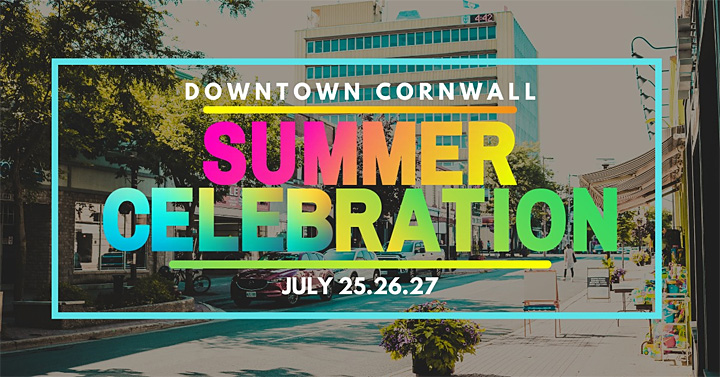 A number of businesses in the Downtown will be celebrating from July 25 to 27 by staying open late and offering special discounts – with the odd contest thrown in.
The event is timed to coincide with two other major events – Cornwall Art Walk and Ribfest. Thousands of Cornwall residents and visitors expected to congregate in and around Lamoureux Park and Downtown Cornwall for the events, making it a perfect time for business owners to introduce there summer fare.
"Summer is always a popular time with more people on the streets, visiting shops and grabbing a bite at local restaurants," said Kevin Lajoie of Cornwall Tourism. "Events like the Downtown Summer Celebration make the experience even better."
2019 marks the sixth consecutive year that downtown merchants have held a "Summer Celebration."
"Local merchants often have unique products that you just can't find in big box stores," says Chris Munro of Life's Little Pleasures. "Summer is a great time to plan some time browsing and perhaps make a dinner reservation or two."
There'll be lots of great music happening in the downtown core on Friday as well, including O'Neil Studios' monthly open mic, held outdoors for the very first time.
Participating businesses in the Downtown Summer Celebration include the following:
Be Rare: Specials and extended hours.
Cailuan Gallery: Open later hours, 20% of Art Supplies
Crush Lane: Extended hours until 9pm on Friday and Saturday. Blowout sale – up to 50% off!
Fantasy Realm: Open later hours, take a photo with Stranger Things pop-up on Saturday
Esca Gourmet Pizza + Bar: Special promotions
Kid's Korner: Open late Thursday and Friday, sidewalk sale – special contests!
Dreamland: Open late, sidewalk sale!
Life's Little Pleasures: Open late Thursday and Friday, sidewalk sale
Love Love Food: Open until 9 p.m. Thursday.
Maker Gift Shop: Open later hours, local artisan works for sale
Pommier Jewellers: Specials and promotions
Pure Organic Spa: Specials and Promotions
Schnitzel's: Special promotions
Simply Jennifer:  Open late Friday until 9pm – special offerings
Squire Shop: Sidewalk sale, special promotions.
Studio 101: Grand Opening on Friday at 5 pm … swag bags, discounts and demonstrations & refreshments
Cornwall Tourism: Drop by the museum and enter to win a Summer Celebration prize package.
You can catch the latest details on the Facebook Event page:
Categorised in: Arts and Entertainment, Business, General, News