Jingle Boxes Return Just In Time For The Holidays
December 3, 2021
Cornwall Ontario – The Jingle Box back – just in time for the holidays!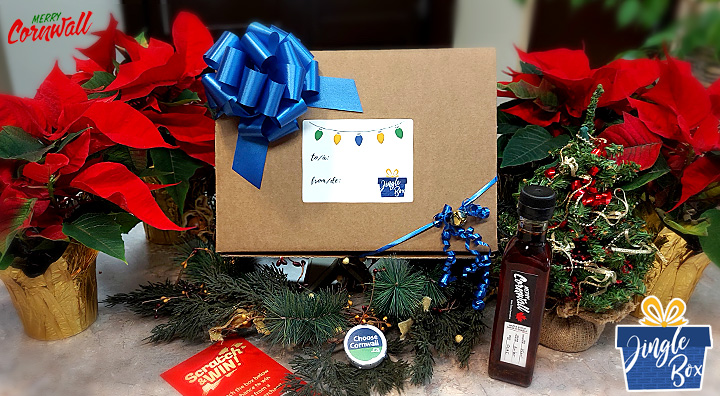 Once again, Cornwall Economic Development has partnered with dozens of local businesses to offer the Jingle Box program, an easy way to shop and give local this holiday season.  Customers will be able to purchase Jingle Boxes in store on Saturday, December 4th, with pre-orders accepted by participating merchants starting today.
"Picking up a Jingle Box is a great way to shop local and support our smaller independent merchants," says Bob Peters, Division Manager of Cornwall Economic Development. "We are very happy to welcome over 10 new merchants to this year's program.  Together with the merchants returning from last year, shoppers will have a Jingle Box gift option for everyone on their list."
The Jingle Box is a decorated box filled with items to meet the fondest dreams of that special person on your shopping list. As a special Merry Cornwall surprise, each Jingle Box comes with a complimentary bottle of Glengarry maple syrup and a Merry Cornwall Scratch & Win card, along with a couple other Cornwall goodies from the Economic Development team.
Last year over 325 Jingle Boxes were sold, generating nearly $22,000 in sales and driving hundreds of shoppers to local businesses.
2021 Jingle Box – Participating Businesses
Each box will be unique and available exclusively from the participating store. Prices range from $35 to $125. At the current time, there are 36 participating businesses:
Jingle Boxes are available for a limited time, while quantities last. The contents of the Jingle Box may vary. Please check with the merchant for complete details.
Related Articles
Categorised in: Arts and Entertainment, Business, Community, General, News