New Affordable Apartment Building Officially Opens
July 6, 2023
Cornwall Ontario – It's official — the City of Cornwall's 77-unit affordable housing development located at 550 Ninth Street East is now open!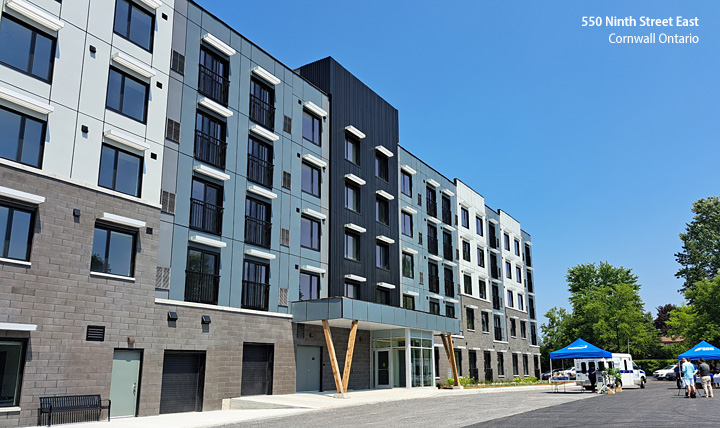 A Grand Opening event for the $18.8 million development was held on July 5 with city staff, local contractors  and several dignitaries on hand.
"We not only celebrate several years of hard work — we also celebrate the monumental step that the City of Cornwall has taken in tackling housing insecurity in our City and in the United Counties of Stormont, Dundas and Glengarry," said Lisa Smith, Manager of Housing Services for the City of Cornwall. "We can't wait to welcome our newest residents to their new home."
Construction on the new building began back in 2021. The 550 Ninth Street site was identified as a priority location in a recent Housing Revitalization Plan, which recommends broadening the definition of affordable housing with the objective of creating healthy, sustainable communities.
"Today is the pinnacle of several years of dedicated work by our team to make this affordable housing unit a reality," said Mellissa Morgan, General Manager of Human Services and Long-Term Care for the City of Cornwall.
In addition to housing 77 units, the new building will also be the home of the City of Cornwall Housing Services.
"This project is a valuable addition to our affordable housing portfolio and will provide safe and secure housing for those who are in need," said Mayor Justin Towndale. "It will also allow us to free up some multi bedroom units for families across our other buildings. I look forward to continuing our momentum on this file."
The complex is a mixed rental community with units available at Attainable Market, Affordable, and Rent Geared to Income levels.
Market Rent Units
The registration process for 550 Ninth Street East's Market Rent units is currently open. The monthly rent for market rent units is set at $1350.00 plus utility costs and plus $25.00 for parking if required.  Tenants also have an additional monthly tenant insurance expense.
Apartment layouts (including an on-line application form) can be found here:
Contact the Housing Services Division at 613-938-7717 if you have questions about the online application.
About Housing Services Division
The Housing Services Division of the City of Cornwall delivers programs and services to residents in Cornwall, Stormont, Dundas, and Glengarry. Programs include rent-geared-to-income, homelessness prevention, domiciliary program, and Ontario Renovates.
Housing Services offers quality, safe and affordable housing for seniors, families and adults.  The Corporation owns 720 senior apartments, 21 Affordable Housing units geared to seniors, 32 Affordable Housing units geared to non-seniors and 458 family units in Cornwall, Stormont, Dundas and Glengarry. For more information, please visit the City's website:
Related Articles